Concrete Answers Series for Architects, Engineers and Developers |
Click here for more answers
Preservation
Preserving Our Streets and Roads
Our streets and roads must be preserved. In cities, towns, and counties across the nation, nearly all of the work on roadways is aimed at preserving what is already there versus expanding the system.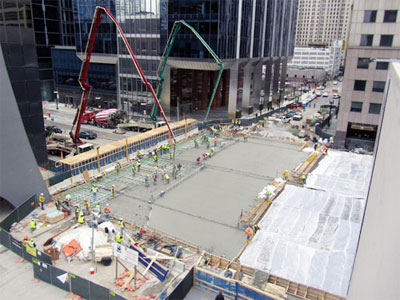 Concrete overlays are an excellent choice to help preserve and rehabilitate existing systems. Ranging from 2 inches to 11 inches thick, concrete overlays can be used over distressed asphalt, concrete, or composite pavements to create a new pavement structure with superior structural and sustainability benefits. Concrete overlays extend the service life of highways, streets, airports, and other pavements by 15 to 20 years or more.
Concrete overlay construction is fast, efficient, and increasingly competitive. And, because of the durability of concrete, contractors are able to get in, get out quickly, and stay out for long periods of time. This means less risk of work zone accidents and fewer traffic slowdowns—especially important in crowded urban areas, resort areas, and other places where inconvenience to motorists is an important consideration.
For the complete guide on concrete overlays of existing pavements go to: http://www.cptechcenter.org/publications/overlays/index.htm
Preserving roadways with concrete overlays also also has less environmental impact. One reason is that local supplies of raw materials for concrete are readily available; in contrast, materials for preservation with asphalt are linked to global oil supply, which is limited. One reason is that the investment made in raw materials when the pavement was initially constructed often remains in place and serves as a base for the new pavement surface, thus requiring less new raw material.
photo credit: Carlos Del Val Cura and Mark Wierda